⬅ Return to collection
Art : Mid-century
This item has been sold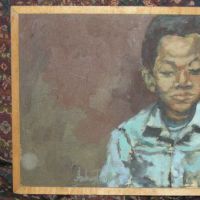 African American Artist Andrew Turner oil on canvas Signed and Dated 1975 Titled "Larry"
I am very proud to have this piece, an African American Artist, Andrew Turner original oil on canvas signed and dated 1975. The back stretcher is also signed Andrew Turner and has the title "Larry".
The canvas is approx 12" x 16". The subject is a young boy positioned on the right. His eyes are in peering gaze looking to the lower left.
Andrew Turner ( 1944- 2001 ) is an artist who is noted for doing strong expressionist style paintings of Jazz inspired subjects.
Please email me for more photos or if you have any questions.