⬅ Return to collection
1st Edition : Out Of Print : Rare & Unique : Mid-century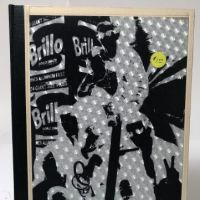 Andy Warhol's Index Book 1st Edition Hardcover Complete with Flexi Rare Holographic Front Board 1967 Random House 
Andy Warhol's Index Book 1st Edition Hardcover Complete with Flexi Rare Holographic Front Board 1967 Random House
Published in 1967 this book became a working piece of Pop Art. Included is the Pop Up Castle, the Airplane, Accordion, Mobile, Lou Reed Flexi disc, "Chelsea Girl" on the spring, an illustration of a nose with two colored overlays on a double-folded page, Hunt's Tomato Paste can, a sheet of stamps to be placed in water and as always the gold balloon melted and fusing the two pages.
Published by Random House
Year: 1967
Hardback edition with Holographic Front Board, cream colored end boards with black clothe binding.

Condition: Very Good Plus Condition, the cover has old price sticker on the front, very small lower right edge bump, the spine is in wonderful condition with all the silver lettering intact with only very slight wear. The back has light soiling from storage, please see the image for details. The first page has small tear on the top seam, approx 1/2 inch. slight signs of use to the binding, all the pages are tight and in very good condition. Very small edge bumps to the lower right edges of the paper. The Flexi is attached AND NEVER USED. The fold out noise has light wrinkles too the fold and the right edge has slight signs of use. The ballon page is stuck and melted. Please see the images provided for more details and for more visual descriptions.
Please feel free to email me for more images or if you have any questions.
NOTE:
International orders, please email me your shipping address before purchase with your address to get a shipping quote. The shipping price is for US buyers only.
Detail photos Click to enlarge