⬅ Return to collection
Medical & Oddities : 1900-1940s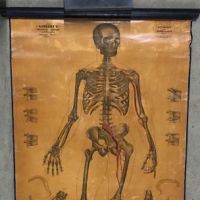 Antique Medical Pull Down Chart by Thomas Scott Lambert Plate 1 Lambert's Pictorial Anatomy Published by Sanborn & Carter Portland Main Circa 1880's
Thomas Scott Lambert 1819-1897 was was an American physician who wrote numerous books and lectured on the human anatomy and medical procedures till his death in 1897.
His anatomy book, originally published in 1851 became extensively used in American do to his lecturing. This image was used and taken from his 1851 book, Pictorial Anatomy.
The images was enlarged and printed by Sanborn & Carter from Portland Maine, the company was one of the prominent printing companies of the North East United States
The use of the pull downs, anatomy charts were used for eduction and studying. The fine details of the anatomy of Lambert would have hang in a class or was used as a teaching aid for a medical student or professional.
The age of this pull-down medical chart is circa last quarter of the 19th c.
The wood bottom bar is no longer attached.
As you can see the chart has been lacquered coated and has turned orange, this happened to old lacquer but simply adds to the look and age of the cart.
No tears to the images, small tears to the linen at the edges from use and wear and age.
Please see the images for more details
Size: 34 long x 22 wide
Condition: signs of use and wear, the coating of lacquer has turned orange over time. The bottom wood bar is not attached. Wear at the edges from age. No damage to the images. Please see the images for more details.
If you have any questions or if you need more images please feel free to contact me.
NOTE:
The price listed is for US. If you are an overseas buyer please email me your shipping address before purchase to get a shipping quote.
Detail photos Click to enlarge