⬅ Return to collection
Jewelry : 1900-1940s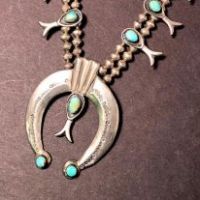 Antique Native American Squash Blossom Necklace Circa Mid 20th C. Melted US Coin Unmarked Pawn
Antique Native American Squash Blossom Necklace Unmarked Pawn
Double Strand with turquoise blossoms and hand tooled Naja with turquoise at the points.
Strong and bold turquoise on all the blossoms and the intricate and fine detailed stamped silver naja gives the early style of this necklace.

The Squash Blossom necklace is kinda a new era in Navajo Jewelry, according to historians the modern squash blossom is circa 1860's. There is no exact dates but the influence and introduction of the Spanish Mexicans gave the Nation a new influence.
The necklace has "three distinct parts: the plain round beads; the round beads with the "petals," so to speak; and the horseshoe-like pendant at the bottom called the Naja."
"The name of the necklace really grew out of the one type of bead that was, as mentioned above, developed by and credited to the Navajo, and whose name in the Navajo language translates to "bead which spreads out," Dubin said." (Lois Sherr Dubin, author of a number of books about Native American jewelry including "North American Indian Jewelry and Adornment")
The main part is the Naja, ""Naja" is the name the Navajo gave to a symbol believed to have originated in the Middle East in ancient times. Like some many symbols, it was created as a talisman for protection, with the Moors affixing it to their horses' bridles to ward off the evil eye." This makes sense with the Spanish influence, Spain was conquered in the 8th C. by the Moors.
This Squash Blossom is from the mid 20th c., the early 1900's to about WWII, the Navajo nation sold many pieces like these at train stops in the Mid West and many more were made and sold to Pawn shops for money, hence the branded name Pawn.
The piece is unmarked like many of the early pawn pieces, the signing and stamping of the jewelry came later, making this piece an early piece, circa mid 1900's.
Size: naja is 2 1/2 wide x 3 inches long each blossom is 1/4"
total length as photoed is 14 1/2 inches long
Condition: Very fine with no loose or damaged stones, the stones all appear to be original to the piece and the stand is silver wire and seems secure. Please see the images for more details.

If you have any questions or if you need additional images, please feel free to contact me.

Note:
Over seas buyers please contact me before purchase with postal code to get a shipping quote. Shipping cost posted is for Domestic shipping only.
Detail photos Click to enlarge