⬅ Return to collection
Advertising : Folk Art & Outsider Art : Medical & Oddities : Mid-century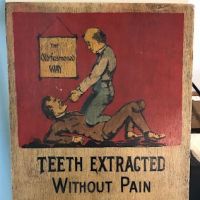 Antique O.B. Comfort Dentist Painted Wooden Sign Teeth Extracted Without Pain Advertising Art
A Antique O.B. Comfort Dentist Painted Wooden Sign Teeth Extracted Without Pain
O.B. Comfort Dentist Teeth Extracted Without Pain Painted Wooden Sign
These occasionally come up for sale and not a lot of information is available on them. They are painted wood and were not issued by any company but were made as a joke to show how far the practice has come, from teeth yanked out to modern dentistry.
The wood panel is painted and has a wax like finish over the wood and painting, the painting is real and is not printed.
The panel is a 1/8 plywood with no markings on the back or the front of who the artist was.
Size: 16 x 24 inches
Condition: Very fine with minor bumps to the edges, the back has been varnished and the are hanger is new. If you have any questions or if you need additional images, please feel free to email me.
If you have any questions or if you need more images please feel free to contact me.
NOTE:
The price listed is for US. If you are an overseas buyer please email me your shipping address before purchase to get a shipping quote.
Detail photos Click to enlarge