⬅ Return to collection
[uncategorized]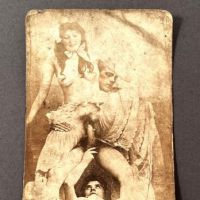 Antique Photo of Menage A Trois Albumen Photo Mounted on Heavy Paper Circa 1918 WWI Era
Very early Erotica Photograph, circa 1910-1920, a albumen cabinet card.
The image is a thin photo on a heavy weight paper, unlike a cabinet card which used a heavy card stock, this paper is very similar to a postcard stock.
The image is a popular image, used often in books from the early 1900's to 1940's, the ménage à trois of two women and a man was done circa 1880's. A very bold image, you can see why the image has been used often and in many different books. The interesting thing about this is the fact that is a photographed, likely made in Paris, a popular place to get images of this sort and during the early 1900's. By the age, appears to be around the 1st World War.
Size: 5 1/4 x 3 1/2 inches
Condition: obvious soiling and fading to the image, bumped corners and lower right corner is torn. The image has some cracking going on, due to the nature of the photographic process and emulsion. Wrinkle on the right side at the bottom and goes up. Back has soiling from age and storage. Please see the images for more details.
Please feel free to email me for more images or if you have any questions.
NOTE:
International orders, please email me your shipping address before purchase with your address to get a shipping quote. The shipping price is for US buyers only.
Detail photos Click to enlarge