⬅ Return to collection
[uncategorized]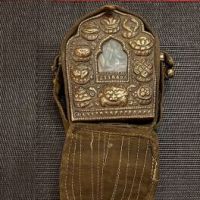 Antique Tibetan Gau Portable Shrine with Fabric Case Circa 1950s
Tibetan Gau or sometimes spelled Ghau is a prayer box or amulet container traditionally used by Tibetan Buddhists. Primarily a reliquary to hold and carry "sacred objects such as an image of the owner's personal deity wrapped in silk cloth, along with other holy objects or blessed items." These portable shrines would be taken with a traveler when leaving the house.
The Gau had a small glass window to show the idol, the case, like other reliquaries, have a decorative silver case and is wrapped in a printed fabric.
The metal on this one is a hand hammered silvered copper with a figure is a small buddha behind the glass. The fabric is a silk decorated cotton, holding he gau securely.
Please see the images for more details.
Size: The gau is approx 4 1/2" tall.
Condition: fine with signs of use and wear. The glass is intact as is the deity inside. Please see the images for more details.
Please feel free to email me for more images or if you have any questions.
NOTE:
International orders, please email me your shipping address before purchase with your address to get a shipping quote. The shipping price is for US buyers only.
Detail photos Click to enlarge