⬅ Return to collection
Medical & Oddities : 1800s
This item has been sold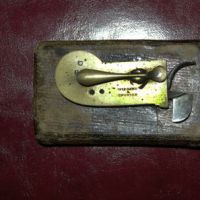 Antique Civil War Era Lancet Bloodletting Tool with Case Wiegand & Snowden
A New estate has proved to be an interesting collection of Antique Civil War Era Medical instruments. Included in this collection will be different types of Lancets as well as a fine example of a Civil War Amputation set.
The lancet is marked Wiegand & Snowden and has the storage case. The case is worn and torn in parts.
A small compartment in the case had a small folded paper with "Faccein" (sp?) I am unable to find what this "medicine" was used for, my guess it is some sort of folk lore medicine.

Condition: VG, some wear to the lancet, the case is worn and torn in areas.

If you have any questions or if you need additional images, please feel free to contact me.


Detail photos Click to enlarge