⬅ Return to collection
Antique Accessories : 1900-1940s
This item has been sold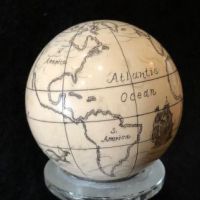 Antique Cue Ball Scrimshaw with Antique Nautical Navigation Map Circa 1900
A very nice antique Ivory Cue Ball, Billiards ball from circa 1900.
The use of Ivory cue balls have gladly stopped but a lot these were used by the lost art of Scrimshaw. Scrimshaw has been used for centuries but gained a large notoriety in the 1700-1800's with the art being used on Sperm Whale teeth and other nautical animal bones and teeth.
The most famous and sought after pieces are the Nantucket whale's art.
This ivory cue seems to not have been used very much, no cracks or chips that I can see.
The art is a nautical map/ navigational globe typical of 1700's early 1800's with the stylized whale and the great North wind blowing.
Amazing fine detail and art but no signature of the artist and or date.

Please see the images provided for a visual detail.

Size: 2 1/8" diam.
Condition: near perfect with minimal age cracking or staining. Please see the images provided for a visual secription.

If you have any questions or if you need additional images, please feel free to email me.
Note:
No shipping outside of the US, no over sea buyers on this item.
Detail photos Click to enlarge