⬅ Return to collection
Other : 1930-1940
This item has been sold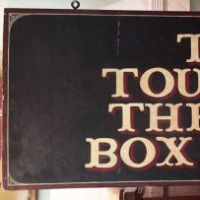 Antique Hand Painted Wood Sign From New Orleans Louisiana Theatre District
Once again this client has pulled out an amazing piece. The lived in New Orleans ( at the edge of the city limits) in the 80's-90's. Buying a lot of antiques from the regions. That area was not the big tourist place it is now so they have pulled amazing pieces from that area.
Here is one great example, a hand painted wooden sign from the once famous, The Toulouse Theater.

"The Toulouse Theater was located on Toulouse Street at Chartreis Street. A small theatre with seating listed at 350. The Toulouse Theater was operated by Walter Reade.
The theater closed in the-1970's and has since been converted to restaurant/bar called One Eyed Jacks. Any further information on this theater would be appreciated."
The wood and painting seems to be from circa 1950's-60's. The paint has some weathering and has lifted from age.

One sided sign, painted and decorated front and the back is plain. The piece was hung from two eye hooks.
Please see images for details

Size: 21" tall x 53" long and approx 1" think wood.
Condition: Fine with some lifting of the paint on the lettering. The edges are bumped and some soiling and bottom edge of the front of the wood has some chipping. Over all in great condition since the sign was outside.

If you have any questions or if you need additional images, please feel free to email me.

Detail photos Click to enlarge