⬅ Return to collection
Art : 1900-1940s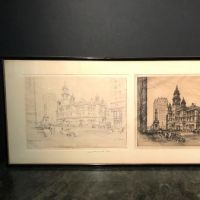 Anton Schutz Original Drawing and Etching Financial Center of Baltimore 1930 Dedicated Maurice Bendann
Anton Schutz Original Drawing and Etching Financial Center of Baltimore 1930
Title: Financial Center of Baltimore 1930
Year: the Drawing is Dated in pencil April 19th 1930, just months after the Stock Market Crash and at the beginning of the Great Depression.
Edition: Artist Trial Proof as stated on the etching and dedicated to Maurice Bendann, the second generation of the famous Baltimore Framer, Art Patrion and Art Dealer which started in 1859. Written in pencil by the artist " With My Best Regards to my friend Maurice Bendann Anton Schutz 1930".
Then signed again in the lower right in pencil by the artist, Anton Schutz
The Original edition is a numbered edition out of 100, not know how many artist proofs were done, most likely 5 or 10
Anton Schutz Bio:
"Anton Schutz (1894-1977) is noted for his architectural etchings of New York City, Baltimore, Philadelphia and other notable cities in America. He was born near Trier, Germany and in 1912, he entered the Technische Universität München (Technical University of Munich), where as a student of architecture he learned the technique of etching as a means of reproducing building plans.
Starting in Munich around 1919, he continued his studies in architecture and mechanical engineering while also studying printmaking at the Bayerische Akademie der Schönen Künste (Bavarian Academy of Fine Arts) with portrait and landscape painter Hermann Gröber (1865-1935). Schutz began his career making etchings of German landscapes and cityscapes that were admired for their skilled exactitude.
In 1924, concerned with Germany's unstable economic and political conditions, Schutz emigrated to New York City, where he became a studio assistant to Joseph Pennell (1857-1926), the esteemed printmaker who taught intaglio at the Art Students League. Schutz soon began to create his own etchings of the modern, progressive city growing around him, encouraged by his first American exhibition at New York's Anderson Gallery. In 1925 the local Chamber of Commerce commissioned him to execute twelve etchings documenting the urban landscape to commemorate the three-hundredth anniversary of the founding of New Amsterdam (now New York). In 1928 and 1929 commissions for etchings of corporate headquarters and business districts in such cities as Baltimore, Chicago, Cleveland, Pittsburgh, Washington, D.C., and several European capitals. Yet New York's dynamic architecture and skyline inspired him to create more etchings than any other place.
Until the depression damaged the market for fine art prints, Schutz's precisely drawn etchings were commercially successful; he regularly exhibited in galleries and etching society shows in New York, Brooklyn, Chicago, and Philadelphia. To supplement his etching career, in 1925 Schutz founded the New York Graphic Society, Inc., which marketed original graphic art. Schutz had ceased printmaking in 1940, when he cancelled most of his copper plates and donated them as scrap metal in support of America's war effort."
Size: Coming Soon
Condition: Near fine with no visible damage, original frame and label on the back of the frame. The Mat is original and has not been altered since has writing of the artist.Both pieces are framed with period frame and un-altered with Bendann's label attached to back.
SHIPPING: the art is framed in original frame and glass. Extra care and packaging will be needed to ensure safe delivery. If you wish to have extra services please contact me before purchase.
If you have any questions or need additional information, please feel free to contact me.
Note:
Over seas buyers please email me for shipping quote, please provide me with a shipping address and postal code.
Detail photos Click to enlarge