⬅ Return to collection
Glass : Medical & Oddities : 1900-1940s
This item has been sold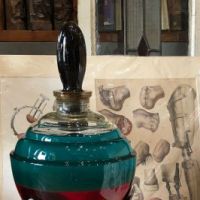 Apothecary Pharmacy Show Globe Art Deco Style circa 1930's-50's Double Layer of Water Red Green
Apothecary Show Globe Art Deco Style, circa 1930's-50's.
These amazing drug company and bottle companies sent display jars to Pharmacies to put in their windows for display. Most of the jars would have been filled with colored water in the old Apothecary meaning and display.
European Apothecary would use them as signs of Apothecary and also for warning.

Red of course is danger
Yellow is a warning
Green or Blue would be all is OK.
American Pharmacy were like the old apothecary and were compounding medicines.

This one is filled with the rarely seen double layer, Red and Green
The Stand is an aluminum and is pitting, please see the images.
The Glass stopper, which is also filled is stuck in the jar and I do not want to force the stopper, this will crack the glass.

Size: 23 1/4 inches tall

NOTE:
This item is only available for pick up only. I can not ship this item.



Detail photos Click to enlarge