⬅ Return to collection
Modern
This item has been sold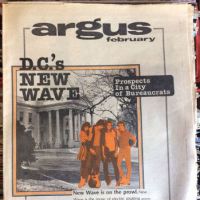 Argus DC Area Magazine Punk New Wave February 1979 Counter Culture Newspaper
1979 DC Washington Area Counter Culture newspaper.
The paper is a small run, 16 page and is a Student Monthly Feature magazine
Published in University of Maryland College Park and was published the first Thursday of every month during the academic year.

This issue has the article about the new wave music of punk rock. Asking one of the founding punk bands in DC, Slickee Boys and Urban Verbes talking about the problem of playing shows in the DC area, the article was written by Jim Nowak.
Other highlights in the newspaper, an article on Abortion

Size: 11 1/2 x 15
Condition: fine with minor edge tears. Please see images for details

If you have any questions of if you need additional images, please feel free to email me.


Detail photos Click to enlarge