⬅ Return to collection
Art : Culture : Modern
This item has been sold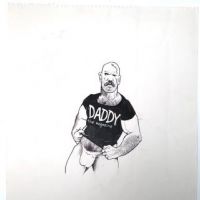 Art Archive for Daddy Magazine Bill Ward Homo Erotic Original Art 64 Pages 1980's Plus Complete Run of Magazines
Bill Ward 1927-1996 was born in London and was well known for his homoeroitc bear men for Drummer magazine and Daddy.
I have not posted all the images available but a small select portion. More images will be added in a video or a complete inventory can be emailed to you upon request.
**Serious Inquires only**

No images can be used without the permission of Sturgis Antiques and the Collection's Owner.

64 Pages of Original Pen and Ink Drawings with Printers notes and comments. This collection is almost the complete art collection for the run of the magazine Daddy .
His art in the 1950's was used in children's comics using as an influence Hogharth's Tarzan has one of influences, you can see this in his later art drawings of Daddy and Drummer.
His commercial work was very far from his later work, especially in content since erotic art was illegal and not accepted but that didn't mean he was was making art. He did use the Men's magazine's of the 1960's but his drawings were not credit to him directly, he used initial and pseudonyms for these early and then illegal drawings.
Around the mid 1970s' he moved into creating his erotic drawings that he is known for, for both British and American magazines. In 1975 Drummer Magazine in San Fransisco , started giving Ward a platform to have more of his graphic art published along side such artist as Robert Mapplethorpe, Tom of Finland, Rex and others. Drummer closed up in the late 1990's. By the late 80's Bill Ward's art will highlighted and almost exclusicvly done for Daddy Magazine, published by Yoshie Shinomoto and was published under Ganymede Press which started in the late 1980's.
Sturgis Antiques is very proud to offer an almost complete archive collection of the drawing used in this now iconic and early leather daddy magazine. This the largest collection of Bill Ward in private collection, with 64 pages of pen and ink drawings, some pages have multiple images on one page.There are approx 75 drawing drawings used in the publication of Daddy Magazine and this collection can boast 67 illustrations in the collection.
Along with the drawings the client has a full run of the Daddy Magazine to go along with the collection.
The collection will be documented in full for more details of title of each page and full details of all information of each page. I can supply you with these images or the collection can be viewed privately before purchase. Please contact me for making arrangements to see the collection.
Sizes range from 42 x 59 cm to 23 x29 cm.
Medium: Original Pen and Ink on artist paper
Art by: Bill Ward



Sturgis Antiques represents the collection and all images here are from my client's personal collection. No images can be used for public or merchandising.
Any Questions or inquires are welcomed. The Collection is being sold as an archive, that is the complete art collection and the complete run of the magazine, Daddy.
Detail photos Click to enlarge