⬅ Return to collection
Antique Accessories : Lighting : 1900-1940s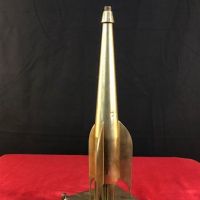 Art Deco era Industrial Design Space Ship Rocket Lamp Cut Brass Circa 1920's
Art Deco era Industrial Design Space Ship Rocket Lamp
This amazing lamp has been no pun intended, on my radar for awhile at this client's house. They have amazing Bronze pieces and art, many of the statues are from this client. This one has been sitting his shelf and they have finally decided to have me sell it for them.
A hand made, vernacular Rocket Ship lamp. Cut and polished brass, all done with precision, this lamp is amazing. The stylized flames at the base stabilize the rocket ship, the base is wide and has enough space to hide the wires.
Tall and sleek, this Art Deco interpretation of what space travel will look like was on everyone's mind. The 1920's technological innovations, radio waves, exploration of the oceans and lands helped spur the idea of space travel further. In literature you had Jules Verne with his novel from 1865, HG Wells' War of the Worlds were only a few.
This amazing Art Deco lamp is perfect for the collector of Space Age, Art Deco and early Industrial Design.
Size: coming soon
Condition: Very fine with no breaks or damage to the rocket ship. There is no cord or socket included in this purchase. Please see the images for more details.
If you have any questions or if you need more images please feel free to contact me.
NOTE:
The price listed is for US. If you are an overseas buyer please email me your shipping address before purchase to get a shipping quote.
Detail photos Click to enlarge