⬅ Return to collection
Art : 1900-1940s
This item has been sold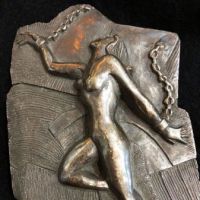 Art Deco Era Chrome Plaque Andromeda Bound To The Wall Circa 1920's
Art Deco era chrome plaque of Andromeda bound the rock wall in chains.

Andomeda was "daughter of the Aethiopian king Cepheus and his wife Cassiopeia. When Cassiopeia's hubris leads her to boast that Andromeda is more beautiful than the Nereids, Poseidon sends the sea monster Cetus to ravage Andromeda as divine punishment. Andromeda is stripped and chained naked to a rock as a sacrifice to sate the monster, but is saved from death by Perseus."

The Art Deco era art was a movement filled with innovations and also was a style with Greek, Roman and other cultural mythology images.
The Greek mythology had a strong influence in America with many of the buildings, public sculptures and art show casing the stories.

This chrome metal sculpture plaque looks to be part of building freeze in the style of Paul Manship.
The piece is not marked or identified with a certain sculpture of maker.

Size: 5 1/4 x 4 1/2 inches
Condition: Near fine with details in the casting, please see the images for details.

If you have any questions or if you need additional images, please feel free to email me.
Note:
shipping cost is for US only, if you are an over seas buyers please email me your shipping address to get a shipping quote.

Detail photos Click to enlarge