⬅ Return to collection
Out Of Print : Rare & Unique : Mid-century
This item has been sold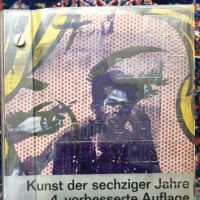 Art of the Sixties 4th Revised Edition Kunst Der Sechziger Jahre 4 Verbesserte Auflage Lucite Cover
Art of the Sixties. 4th Revised Edition / Kunst Der Sechziger Jahre. 4. Verbesserte Auflage. 1970
Screw Post Bound Thick Embossed Plastic with the tipped in lithographs and B&W films over the art creating one of the most ambitious art books I have seen. Each opening of the artist has a b&W film with a printed image creating a opening of each artist's work. I have photographed some of these to give an impression but no photo to capture what the editor and designers have created.
Year: 1970
Stated 4th Edition


Bound with a screwed lucite spine held together with screws. The cover is a softer plastic with relief writing on the cover and the back cover is a clear soft plastic.

Size: 9¾"-12" tall.
Condition: lucite shows some shelf wear but in fine order with the softer plastic cover and back with some shelf wear and slightly age discolor.
Inside the pages are intact and tight. Sadly missing three tipped in lithographs, 52 82, and 88
Please see images for this detail.

"....historically unique text presents a comprehensive compilation of the works of 92 international artists of the 1960's pop-art era; part of the private collection of Peter Ludwig."

A amazing edition designed by Wolf Vostell. A classic pop art catalogue with featuring by Albers, Beuys, Dine, Dubuffet, Hockney, Johns, Kelly, Klein, Lichtenstein, Rauschenberg, Richter, Stella, Twombly, Warhol

**I have included as many images as I can, but if you need more please ask.**

If you have any questions or if you need additional images, please feel feel to email me.

Detail photos Click to enlarge