⬅ Return to collection
Art : Arts and Crafts : 1900-1940s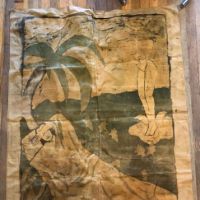 Batik Arts and Crafts Era Fabric Art Tapestry Betty Lee of Greek Myth Iris and Morpheus C. 1930's
Batik Arts and Crafts Era Fabric Art Tapestry Betty Lee of Greek Myth Iris
Circa 1930's Arts and Crafts Era Fabric art of Iris and Morpheus
Signed by Betty Lee
Betty Lee was a Baltimore artist and some records o group shows.
Please see the previous post of another Fabric Tapestry by this artist.
"Batik is a process of using melted wax as a resist on fabric. The wax may be painted on a white or coloured fabric using a canting or brush or it may be stamped onto the fabric using a copper stamp dipped in melted wax. The fabric is then dyed, and the areas that have been waxed will not be penetrable by the dye."
Morpheus, the Greek God of Dreams
Iris is the personification of the rainbow and messenger of the gods.

This Arts and Crafts era interpretation of the the Greek Myth of Morpheus and Iris
The myth is how Iris falls in love with Morpheus but her love for her husband is so strong that Morpheus gives her a potion when she leaves to go back to her family that erases her memory of Morpheus and she falls asleep with a smile on her face.

Size: 43 x 56 inches
Condition: fine but the fabric has some wrinkles and fold marks from being stored and folded. Please see the images for a visual description.

If you have any questions or if you need additional images, please feel free to contact me.

NOTE:
Overseas buyers please contact me before purchase to get a shipping quote. Please email me your mailing address before purchase.

Detail photos Click to enlarge