⬅ Return to collection
Antique Furniture : Arts and Crafts : 1800s
This item has been sold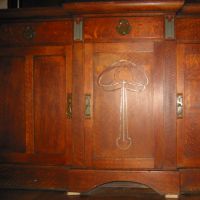 Attributed To G M Ellwood English Arts and Crafts Designer Retailed by J S Henry
English Arts and Crafts, was about 10-20 years before the movement in America, with Gustav Stickely being one of the top and well know of these early American designers.
The original movement was started in England with William Morris. His teachings and designs quickly grew into a style and view on life at time of the Industrial Revolution. His teachings were a Humanist view with Nature at the center and the designs reflecting this. The idea of the furniture having no real heavy ornamentation, but letting the wood and construction being the style gave the appearance of almost early religious Monastic furniture.
In this attributed to G. M. Ellwood, a designer, furniture maker and Interior Decorator, we see a wonderful transition from the Art Nouveau design.
G. M. Ellwood (George Montague Ellwood 1875-1955) studied in Paris and Berlin; both areas being top design and influence of this period.
This piece, based on the research, was made by and retailed at J. S. Henry. The company had many top designers of the day working for them, Ellwood being one.
His designs were showcased at the 1903 Arts and Crafts Exhibition Society along with George Walton and W.A.S. Benson. Their company also had and used designs by C.F.A. Voysey, E.G. Punnett and W.J. Neatby.
The large Buffet cabinet shows the Art Nouveau designed inlay, done in pewter and wood along side the simple and well proportions of the Arts and Crafts style.
The piece is in wonderful condition but with some minor damage. One is the cracked glass on the top cupboard. Also the wood has separated at the joint on the top of the cabinet.

Size: 66" x 76" x 24.5" deep
Cabinet: 22.75" x 75" x 10" deep


If you have interest or need more photos or information, please feel free to contact me.
Note:
The item is located in Baltimore Md. This is a pick up or special delivery. Please contact me for a shipping quote.




Detail photos Click to enlarge