⬅ Return to collection
Out Of Print : Modern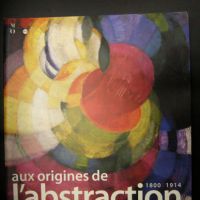 Aux Origines De L'abstraction: 1800-1914 Pub by Musee D'Orsay 2004 ISBN 2711846083
Title: Aux Origines De L'abstraction: 1800-1914 Musee D'Orsay, Fevrier 2004
Published by Reunion Des Musees Nationaux, 2003.
Soft cover
Text: French
ISBN 2711846083

Book Condition: Near perfect, minimal signs of use, no writing or damage to inside. Minor bump to outside front cover edge and slight scuff from the shelf. Small glue mark on the front cover. Book has no writing or signs of use.
Please feel free to email me, I would be glad to email you photos of condition.

Note: The book is large and heavy, additional postage will be needed for international orders.
Detail photos Click to enlarge