⬅ Return to collection
[uncategorized]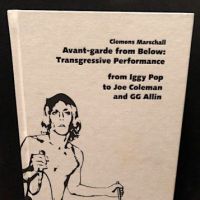 Avant Garde From Below Transgressive Performances From Iggy Pop to Joe Coleman Clemens Marschall
Avant Garde From Below Transgressive Performances by Clemens Marschall
Title: Avant Garde From Below: Transgressive Performances From Iggy Pop to Joe Coleman and G G Allin
By: Clemens Marschall
Year: 2016
Publisher: Rokko's Adventures
Hardcover edition with wrapped pictorial end boards, 409 pages
"…an account, through the 20th century and beyond, of a dangerous bastardisation of punk spirit and avant-garde theory. Three very unique characters trace a line through this history of precarious transgression in the fringes of popular culture: Iggy Pop, who was punk before punk; Joe Coleman, who distanced himself from the then-existing punk scene; and GG Allin, who died for what he thought was punk, thus putting the final nail in the coffin of the avant-garde from below."
"….includes four extensive chapters that provide a historical and cultural context, as well as never before published photos of and in-depth interviews with: V. Vale (RE/Search) / Ron Turner (Last Gasp) / Steve Mackay (The Stooges) / James Williamson (The Stooges) / Greil Marcus / Joe Coleman / Whitney Ward / Susanne Pfeffer / Sam Sammytown McBride (Fang) / Kim Jones (Mudman) / Carlo McCormick / Monte Cazazza + Meri St. Mary / Mark Pauline (Survival Research Laboratories) / George Petros / Joe Sopkowicz / Richard Kern / Cynthia Carr / Chicken John Rinaldi (GG Allin & The Murder Junkies) / Jeri Cain Rossi / Steven Blush / Dr. Heathen Scum (The Mentors) / Mike Doskocil (Drunks with Guns) / John Aes-Nihil / Goddess Bunny / Glen Meadmore / Lisa Carver / Shaun + Kaleidoscope Partridge / Sondra London"
Size: 6 3/4 x 9 1/4 x 1 5/8 inches
Condition: Very fine with no written or marks inside. The binding is tight. The white cloth is slightly dulled, not a bright white but no stains. Please see the images for details.
If you have any questions or need additional information, please feel free to contact me.
Note:
Over seas buyers please email me for shipping quote, please provide me with a shipping address and postal code.
Detail photos Click to enlarge