⬅ Return to collection
Mid-century
This item has been sold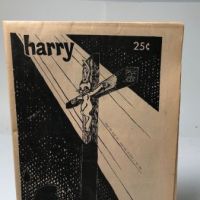 Baltimore Counter Culture Newspaper HARRY: Baltimore's Underground Journal April 10 to April 23 May 7 1971
Published by Atlantis Publishing Company, Baltimore, MD
Underground Newspaper published in Baltimore MD in the 1970's. The counter culture area and time that gave us the Dreamland crew like John Waters, Divine, Mink Stole and others give us this amazing counter culture newspaper. Each newspaper is filled with reviews, articles, commentary and ads for national and local.
"….published from 1969 to 1972, containing the usual left-wing, counterculture topics found in underground press publications." and "founded and edited by Michael Weiss, Doug Wanken, Michael Carliner and Tom D'Antoni and published biweekly in Baltimore, Maryland from 1969 to 1972. A total of at least 41 issues were published, with an average circulation of 6,000 to 8,000 copies. P. J. O'Rourke, then a student at Johns Hopkins University, was a regular contributor and one of its editors."
Year: April 10-April 23 1971
Issue: No. 35 Vol 2 No 10
Features: a great article about Railroading the Panthers. A article on the Future of Medical Care in the USA. A article by Terry Eaton about wire tapping. A article/ commentary about the rise of the cost of the Music Industry.
Includes Record and Theatre Reviews and a page of Underground Comix.
Condition: very good with slight signs of use, small hole at center of seam. The newspaper has been folded and has very light discoloring. Very light wrinkle at the edge and tiny bit of tear. Very light and very minor. No writing inside and in very good condition.
If you have any questions or if you need additional images, please feel free to contact me.
NOTE:
Shipping quote is for US buyers only, if you are an international order please contact me before purchase with your mailing address to get a shipping quote.
Detail photos Click to enlarge