⬅ Return to collection
[uncategorized]
This item has been sold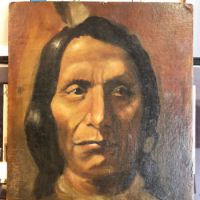 Berger Fagenstrom Oil On Board Native American Portrait Circa 1930's Sioux Native American
Circa 1930's this very nice portrait of a man from the Sioux nation.
The image is very familiar and might be done after a Edward Curtis image but the oil on board is very nicely done. Fine details in the check bones and face.
Signed lower left "Berger Fagenstrom"
There is mention of this man:
"Berger Fagenstrom
Western Artist
1914-2003
BP: Great Falls, MT
Berger Fagenstrom, 88, died Oct. 21, 2003, at St. Elizabeth Health Care Center.
Berger Saint Fagenstrom was born in Great Falls, Montana, on March 17, 1914, to Hjalmar and Hilma Hammer Fagenstrom. He was raised in Montana and as a child he watched Charlie Russell and O C Seltzer paint.
During his stay at the Art Center he worked at Disney for about a year. He then enlisted in the U.S. Navy the day after Pearl Harbor. He was assigned to the newly established Seabees, or Naval Construction Battalion, and was sent to the Pacific area. He was assigned as the battalion artist and some of his works are displayed in the Seabee Museum at Oxnard, California."

Size: 12 inches x 16 inches

Condition: fine but the painting will need to be cleaned, the varnish is starting to yellow and simple lighting reveals fine details and this will come out more with minor cleaning. Bottom of the canvas board shows old repair. I have not cleaned or altered this image. Please see images
provided for details.

If you have any questions or if you need additional images, please feel free to contact me.

Detail photos Click to enlarge