⬅ Return to collection
Art : 1900-1940s
This item has been sold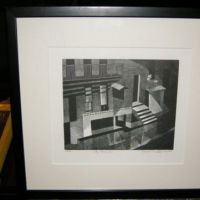 Bernard Brussel-Smith City Scene II Wood Cut Numbered 94/100 Pencil Signed
Title: City Scene II
Artist: Bernard Brussel-Smith
Medium: Wood Cut
Year: 1949
Edition: 94/100
Size: Image size 6 9/16 x 4 3/4 inches (167 x 121 mm); sheet size 11 1/2 x 9 3/4 inches (292 x 248 mm).
Signed in Pencil Lower right and titled (please see images for details)

An amazing Art Deco style wood cut in his more angular style giving this a Art Deco look. Nicely framed by the estate and no signs of damage or marks to the image. Full signature with numbered edition lower left.

"Bernard Brussel-Smith was born in New York City on March 1, 1914, and died on May 8, 1989. He studied at the Pennsylvania Academy of Fine Arts, Philadelphia, and the New School for Social Research, New York. Brussel-Smith was elected an Associate Member of the National Academy in 1952, and a Member in 1973. He taught at the Brooklyn Museum, Cooper Union, City College, and the National Academy.Although Brussel-Smith spent most of his life in the New York area, and was widely known for his posters of the New York Auto Show in the 1950s and 1960s, in 1957-58 he studied with Stanley William Hayter in Paris, developing a form of relief etching inspired by the process used by William Blake. Brussel-Smith, with his wife Mildred, and son Peter spent many summers from 1957 to 1980 in Collonges-la-Rouge, France."

If you have any questions or if you need additional images, please feel free to contact me.

Detail photos Click to enlarge