⬅ Return to collection
Antique Accessories : Folk Art & Outsider Art : 1800s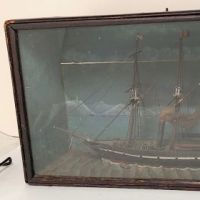 British Whaling Ship Lady Sale A Two Mast Steamer Circa Late Quarter of 19th C. Folk Art Diorama
Last quarter of the 19th century diorama of British Two Mast Steamer Ship called Lady Sale
The folk art of ships in a glass display box goes box goes back almost 200 years. Artists, amateur artist and naive artists have made these displays or some call them dioramas, to show a story or document a ship they have seen or served on. Many of these ships you can find some reference in the history books.
Common was to build the ship, and then paint the inside with scenes inside the box. The glass was to kept to keep the ships free of dust and grime, a protection of sorts.
This diorama has all the pieces you want in this lost folk art nautical tradition.
The ship is called Lady Sale and is a British ship with flag. The Lady Sale was a two mast steamer ship and was documented as a British Whaler, lost in the late 1800's. There is also a record of a British Ship, Lady Sale, built 1843 St John N.B.

The ship does have large row boats on the side, typical of the 19th c whaling techniques leading me to believe this is a model of the that British Whaler, Lady Sale. The Client's family is a British family so most likely this was a diorama of a ship a relative worked on and or also could have made.
Size: 19 1/4 long x 7 1/8 deep x 11 3/8 tall
Condition: the wood is warped in the back, the wood has shrunk and with the shrinking wood, dust was able to collect inside. The outside of the box has bumped edges and and is slightly loose. The glass appears to be original with no cracks or damage to the glass. It does need to be cleaned. The ship seems fine with aging and the smoke is intact and has held up well. Please see the images for more details.
If you have any questions or if you need additional images please feel free to contact me.
NOTE:
International orders, please email me your shipping address before purchase with your address to get a shipping quote. The shipping price is for US buyers only.
Shipping requires extra padding and protection. Pick up is available and recommended but due to the fragile nature special shipping and additional materials will be needed to help protect this item in shipping.
Sturgis Antiques is not responsible for damage to the item in shipping. Please contact me to go over packing and requirements of shipping of this item.
Detail photos Click to enlarge