⬅ Return to collection
Cabinet Cards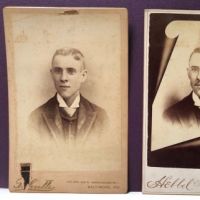 Cabinet Card Portait of Man by Schutte and Drawn Portrait Photograph with Added Mustache By Hebbel Baltimore Circa 1890
Two cabinet cards of the same man, the Schutte is a straight portrait of the young man. The other is drawing then photographed, as they card states "crayon work" of the Schutte portrait.
The only addition is the artist added or the sitter requested the addition of the mustache. Not sure why, perhaps to make him look "older" or to maybe see how he would look. Either way a very uncommon.
Hebbel (Julius Hebbel) was located on 409 and 411 North Gay Street in Baltimore Maryland. This location was in operation between 1889 and 1920. By the look of the man and his clothing this is circa 1900.
The other cabinet card is by Schutte, like the previous post states there is not a lot of information on the photographer or his studio.
Size: each cabinet card is 4 1/4 x 6 1/2 inches
Condition: The Schutte photo has stuck paper on the lower left. There is light foxing and light rubbing to the photograph. The Hebbel Photograph is very good condition with only very light signs of storage. The image has light rubbing and slight soiling to the image. Photographers ad on the back of the card.
If you have any questions or need more images, please feel free to email me.
NOTE:
The price listed is for US. If you are an overseas buyer please email me your shipping address before purchase to get a shipping quote.
Detail photos Click to enlarge