⬅ Return to collection
Cabinet Cards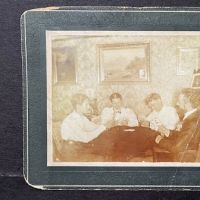 Cabinet Card with A Group Playing Cards with RARE Deck of In Dixie Land Cards 1897 Cincinnati Game Co.
Cabinet Card with a Group Playing with a very rare deck of cards, "In Dixie Land" cards from 1897.
Erica 1900 cabinet card photo with a group of people playing a card game. What makes this photo special are the cards that they are playing. The man on the right showing his cards you can clearly see that the deck is a Cincinnati Game Co. "In Dixie-Land" Playing Cards. The deck was made in Cincinnati in 1897. Placing the date of this photo circa 1890's to early 1900s.
A rare example of this deck of cards and of them being used.
I have included a image of the card the man is holding in his hand.
Location" Unknown
Date: Circa 1900.
(Cabinet Cards fell out of fashion in the early 1900's. Dating these cards put this one in the very late 1800's corresponding with the date of the cards 1897.)
Condition: Fine with lower right side showing a bend causing a crease on the photo. The photo is clear but slightly faded. You can make out the card clearly and fine detail.

Size: 5 1/4 x 6 1/4 card.
4 x 5 photograph
If you have any questions or need additional information, please feel free to contact me.

Noted:
Overseas buyers please email me for shipping quote, please provide me with a shipping address and postal code.
Detail photos Click to enlarge