⬅ Return to collection
[uncategorized]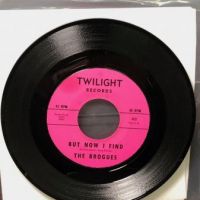 California Garage  The Brogues But Now I Find on Twilight Records 408 Pre Quicksilver Messenger Service
The Brogues But Now I Find on Twilight Records 408
From Merced, California, The Brogues would later go on to be Quicksilver Messenger Service from San Francisco Cal.
The band started in 1964 but their first single would be a quickly released in 1965 on Twilight Records which was a San Jose record label that started in the early 1960s and would do their last single in late 1960s', circa 1967.
There sound a great rave up style, in the Yardbirds vain. The first song was a fast paced great break up song with great loud vocals and strong rhythm guitar. The flip was a more Byrds sound. Take a listen here
SIDE 1

SIDE 2

Condition: Vinyl is solid VG+, looks great and sounds amazing with very light distortion at high ends but very minor, very clean sounding and looking on both sides. SIDE 2 has tiny crackle before music starts.
If you have any questions or if you need additional images, please feel free to email me.

Note:
shipping cost is for US only, if you are an over seas buyers please email me your shipping address to get a shipping quote.
Detail photos Click to enlarge