⬅ Return to collection
[uncategorized]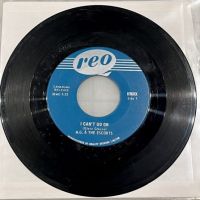 Canadian Garage MG and The Escorts I Can't Go On / The One Who Wants You on Reo 2nd Single 1966 Great Fuzz Guitar
MG and The Escorts I Can't Go On / The One Who Wants You on Reo – 8960.
A Canadian band from the Pointe Claire neighbourhood of Montréal, Quebec with four releases 1966-1967 on Reo Records. Reo was a Canadian label active from the 1950s to the early 1970s and was an subsidiary of Quality Records Ltd
This is the bands second release in 1966, a great fuzz guitar track in a semi jangle sad mid tempo song.
Listen Here
SIDE 1

SIDE 2


Condition: Vinyl is low VG+, has light and faint crackle and low surface, only heard below and faintly. No tracking issues on either side. SIDE 2 plays with slight more crackle, still very low and below music. Both sides vinyl is very clean and the label is in NM- cond. Sleeve is Sleeve is generic white.
If you have any question or need additional images, please feel free to contact me.
NOTE:
International orders. Shipping will be $18. Please contact me before purchase if you are an International buyer. I will need to adjust the shipping price to reflect a correct shipping cost to you.
Detail photos Click to enlarge