⬅ Return to collection
[uncategorized]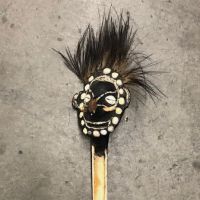 Cassowary Bone Dagger with Clay Head from Papua New Guinea Circa 1960s Tribal Combat Dagger
We all know the Papua New Guinea headhunter stories and I even know some collectors who have rare shrunken heads from the region. Not only are these a prize for some collectors but the other items, masks, fetishes and other ceremonial and war weapons are collectable. This piece is from circa 1960's and was bought not plundered like many items of ethnographic items. By the mid to last quarter of the 20th c., the region was fully colonized and like many areas was a travel destination and billed as the "wild" and "exotic". So with the invasion of tourism, the tribes turned to selling items, much like the Native Americans did during the early 20th c. at train depots and train stops out west.
This is not a plundered or stolen item.
A small description of the Cassowary Dagger:
The Cassowary bird is a large flightless bird which is native to the tropical forests of New Guinea (Papua New Guinea and East Indonesia), Aru Islands (Maluku), and northeastern Australia.
The birds large hollow bones is what makes up these amazing tribal daggers of the Papua New Guinea.
.."(the) dagger is made from leg bone of a cassowary, a large, flightless, and extremely dangerous, bird. Rarely, daggers are made from human femurs, usually from the skeleton of the warrior's father or another man of status in the community. Human bone daggers were considered more prestigious and are stronger." and "Bone daggers were also believed to have supernatural powers. For human bones, warriors believed they inherited the powers of the person who had surrendered the bone. Similarly, cassowaries were thought to possess a supernatural strength that could add to one's own in combat. Cassowaries also play an important role in the mythology of groups".
Medium: The Dagger is decorated with cowrie shells and cassowary feathers.
Size: coming soon
Condition: fine with some clay loss in areas, missing a shell at the top of the head. Please see the images for a complete visual description.
If you have any questions or if you need more images please feel free to contact me.
NOTE:
The price listed is for US. If you are an overseas buyer please email me your shipping address before purchase to get a shipping quote.
Detail photos Click to enlarge