⬅ Return to collection
Punk : 1970-Contemporary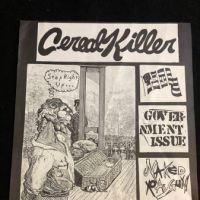 Cereal Killer TSOL Government Issue and Naked Raygun Date: Thurs. June 20th 1985 Washington DC Flyer
Punk Flyer with the amazing Max Ernst assemblage art.
The Cereal Killers, early dc punk band with Alec Bourgeois, later of the band Dusters, Cereal Killer had tracks on the 1985 comp Alive and Kicking.
TSOL released in 1984 the great Change Today? album
Government Issue, well that band was always amazing and of course the Chicago band, Naked Raygun

Bands: Cereal Killer TSOL Government Issue and Naked Raygun
Date: Thursday June 20th 1985
Location: Wurst Radio Hall 8th and V NW Washington DC

Size: 8 x 10
Condition: some minor wear from being stored but in amazing condition. Please see images for a visual description.

If you have any questions or if you need additional images, please feel free to email me.

Note:
shipping cost is for US only, if you are an over seas buyers please email me your shipping address to get a shipping quote.
Detail photos Click to enlarge