⬅ Return to collection
Mid-century
This item has been sold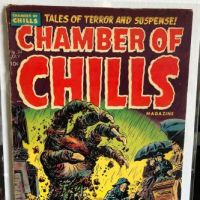 Chambers of Chills No. 24 July 1954 published by Harvey Cover by Lee Elias Pre Code Horror Comic in Very Good Condition
Chambers of Chills No. 24 July 1954 published by Harvey Cover by Lee Elias
**Sames Estate as the other Pre Code Comics listed**
Title: Chambers of Chills No. 24
Date: July 1954
Pub by Harvey
Condition: The cover has minor signs of use to the spine side. Pulling at the staples. And some signs of wear to the spine. The Cover art is amazing and high colors and only slight soiling to the bottom left side. Small wrinkle at the top right corner. The Back has some soiling to the right side. And discoloring to the edges. The Binding is in great shape with great colors and very clean pages. If you need more image please tell me what areas you need photographed.
"Cover by Lee Elias. Stories and art by Tom Hickey, Howard Nostrand, Bob Powell, Mort Meskin and George Roussos. Harvey Comics joins the parade of pre-Code horror comics pioneered by EC in the 1950s. A vampire tells the reader the story of his existence from his point of view. A henpecked husband finally snaps. An ex-convict seeks revenge on the man who framed him, in a story with atmospheric art by Tom Hickey. Plus a vintage ad for a "Toy Circus," featuring a live "performing chameleon" lizard offered through the mail! Classic hand-from-the-grave-cover by Lee Elias. Heartline; The Storm; Invasion; The Museum; Chilly Chamber Music: Songs from the Spook Box; The Meaning of Dreams; Dust Unto Dust. 32 pages"

If you have any questions or need additional information, please feel free to contact me.
Noted:
Over seas buyers please email me for shipping quote, please provide me with a shipping address and postal code.
Detail photos Click to enlarge