⬅ Return to collection
Art : 1800s
This item has been sold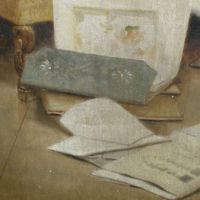 Charles Grant Beauregard Oil on Canvas of Defiant Young Woman and Angry Teacher, Late 1800's
This piece and other that I will mark in the descriptions are all coming from a Magnificent estate near Havre de Grace. If you have any question or wish to see more from this large estate please contact me.
A large Oil by C. G Beauregard of a young Defiant Woman and an angry teacher. Charles Grant Beauregard, American 1856-1919 painter associated with the Hudson River School and his subject include Figure/Figurative, Genre-Human Activity, Landscape, Portrait and Still Life.
This unique painting is a departure of style and shows a broader subject than other know pieces.
This piece shows a young woman caught reading a book while she was supposed to be studying. The religious teacher standing behind her, angry that the woman has been doing her work but enjoying herself reading.
This is a large painting, approx is 57 1/2" x 43 1/2" and the canvas is approx 35" x 50.
If are interested in this piece, please email me for a shipping quote.

Detail photos Click to enlarge