⬅ Return to collection
Rare & Unique : 1900-1940s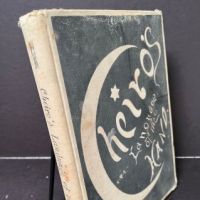 Cheiro's Language Of The Hand Book 16th Edition 1900 Hardback Psychic Palmistry Book
Cheiro's Language Of The Hand Book 16th Ed. 1900 Hardback
From a collection with family ties to Palmistry and Psychics, this is from their personal collection.
Cheiro, was William John Warner, also known as Count Louis Hamon, November 1866 –October 1936. His name was derived from Chiromancy, the art of palm reading or Palmistry.
"He was a self-described clairvoyant who said he learned palmistry, astrology, and Chaldean numerology in India. He was celebrated for using these forms of divination to make personal predictions for famous clients and to foresee world events."

and
"He read palms and told the fortunes of famous celebrities like Mark Twain, W. T. Stead, Sarah Bernhardt, Mata Hari, Oscar Wilde, Grover Cleveland, Thomas Edison, the Prince of Wales, General Kitchener, William Ewart Gladstone, and Joseph Chamberlain. He documented his sittings with these clients by asking them to sign a guest book he kept for the purpose, in which he encouraged them to comment on their experiences as subjects of his character analyses and predictions. Of the Prince of Wales, he wrote that "I would not be surprised if he did not give up everything, including his right to be crowned, for the woman he loved." Cheiro also predicted that the Jews would return to Palestine and the country would again be called Israel."
He self published the book, Language of the Hand in 1894, later the book would be expanded and enlarged and have several printings.
This edition is from 1900 and is stated 6th Ed.
The book has black and white illustrations along with expanded Part 4 showing his use of "Thought Photography", photos of hands.
Condition: The hardback cover is printed cloth, rubbing and soiling to the front with lower right corner showing wear. Top and bottom of the spine have rubbing and damage. Back has soiling and bumped and rubbed corners. Binding is intact, shows signs of use and binding is starting to show signs of loosening, no missing pages. Inside first page has writing from previous owners. Please see the images for more details.
If you have any questions or need additional information, please feel free to contact me.

Noted:
Overseas buyers please email me for shipping quote, please provide me with a shipping address and postal code.
Detail photos Click to enlarge