⬅ Return to collection
Mid-century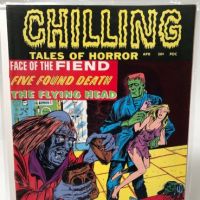 Chilling Tales of Horror April 1971 Published by Stanley Publisher Vintage Horror Comic
**Sames Estate as the other Pre Code Comics listed**
Title: Chilling Tales of Horror
Date: April 1971
Published by Stanley Publisher
"Stories and art by Art Gates, Al Camy, King Ward, Jon Blummer, Paul Reinman, Hy Eisman and Frank Belknap Long. A lurid horror magazine from Stanley Morse Publications featuring tales of ghouls, vampires and the undead. The preserved head of an Indian necromancer is accidentally freed from its prison, and goes flying off in search of a new body. A man encounters a murderous fiend with an animalistic face, and soon finds that his own face has taken the same shape. A ship in a bottle is haunted by a dead sea captain, in a story from acclaimed fantasy author Frank Belknap Long. The Hands of Darkness; Five Found Death; The Face of the Fiend; True Zombies of History; The Flying Head; Phantom of the Seas; The Reluctant Witch. 8 1/2-in. x 11-in., 48 pages, B&W."
Condition: The cover is color wise near mint, there is a small tear at the staple on the lower section and a small tear on a few pages inside. Very light and not all the way through. The binding is tight. Back cover is amazing with very light soiling at the top. Please see the images provided for more details
If you have any questions or need additional information, please feel free to contact me.
Note:
Over seas buyers please email me for shipping quote, please provide me with a shipping address and postal code.
Detail photos Click to enlarge