⬅ Return to collection
Art : 1800s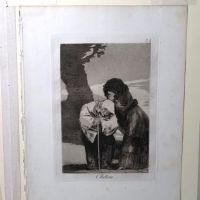 Chiton Plate 28 from the Series Los Caprichos Francisco Goya Hush Circa 1878 Edition
Chiton, "Hush" plate 28 from the series Los Caprichos Francisco Goya
Fransisco Goya (1746 - 1828) the amazing Spanish Artist, associated with the 19th c art movement, Romanticism. His art was reflected and showed the upheavals in Spain's history. After his time as a court painter and stricken with an illness:
"At some time between late 1792 and early 1793 an undiagnosed illness left Goya deaf. He became withdrawn and introspective while the direction and tone of his work changed. He began the series of aquatinted etchings, published in 1799 as the Caprichos—completed in parallel with the more official commissions of portraits and religious paintings. In 1799 Goya published 80 Caprichos prints depicting what he described as "the innumerable foibles and follies to be found in any civilized society, and from the common prejudices and deceitful practices which custom, ignorance, or self-interest have made usual". The visions in these prints are partly explained by the caption "The sleep of reason produces monsters". Yet these are not solely bleak; they demonstrate the artist's sharp satirical wit, particularly evident in etchings such as Hunting for Teeth."

Many people know his haunting images like Witches Sabbath and companion, He-Goat but his images of rebellion and turmoil are as haunting as any others during the time.

Plate 28 titled Chiton, translate to Hush is from the series Los Caprichos, "a series of 80 etchings and aquatints that Goya created in 1797 and 1798 and were printed after his death in twelve editions between 1799 and 1937.
This woven paper Aquatint etching is from an early edition, the same plates artist's plates were used for these edition. Very fine and details line work shows and leans me toward on early edition striking, most likely from about 4th edition or possibly slightly later. The 1878 edition is the 4th edition of this master work by Goya.
Very similar paper and edition is located on the metmuseum.org site

Size: plate size 6 x 8 1/2 inches; paper size 9 1/8 x 12 1/4 inches
Condition: very fine, very light soil marks on the right edge but not effecting the image. The aquatint is in very fine condition, a beautiful and early striking with crips and detailed lines. Left side has slight wrinkles from binding. No tears or damage to the page. Please see the images provided for more details.
If you have any questions or if you need additional images, please feel free to email me.

Note:
shipping cost is for US only, if you are an over seas buyers please email me your shipping address to get a shipping quote.
Detail photos Click to enlarge