⬅ Return to collection
[uncategorized]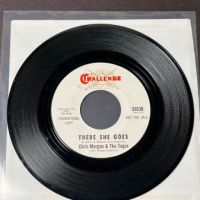 Chris Morgan & The Togas There She Goes / Would You Believe on Challenge White Label Promo 1966
Chris Morgan & The Togas There She Goes / Would You Believe on Challenge – 59330 White Label Promo.
The band's one and only single from 1966 on the Challenge label, label founded in 1957 by a quartet of investors headed by silver screen cowboy Gene Autry. In October 1958, Gene Autry sold his controlling 56 per cent share to Johnson and Johnny Thompson. Most notable for The Champs, The Knickerbockers, Wynn Stewart and Micky Dolenz (just prior to being cast for The Monkees)
The label mostly had pop type music with a handful of garage bands.
What I love about this single is the stamp on the label, the record was sold at a Michigan Pharmacy, a great mirror to how music was sold in the 1960's, very similar to the Jamaican scene of records being sold at TV and repair shops.

Listen Here
SIDE 1

SIDE 2


Condition:Vinyl is high VG+ close to NM-, sounds amazing and very clean and crisp. Tones are very clean and you can hear all the instruments, beautiful sounding! Labels have slight soil from storage, SIDE 2 has stamp of Record Store, a Pharmacy in Michigan. SIDE 2 has a very faint crackle but very low and almost not heard, very faint. Sleeve is generic white.
If you have any questions or if you need additional images, please feel free to email me.

Note:
shipping cost is for US only, if you are an over seas buyers please email me your shipping address to get a shipping quote.
Detail photos Click to enlarge