⬅ Return to collection
Art : 1600s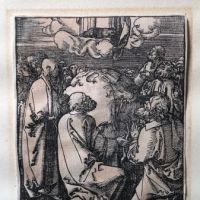 Circa 17th c. Albrecht Durer The Ascension of Christ from The Small Passion Woodcut Engraving Rare Conservator's Initials on Back
Albrecht Durer 'The Ascension' from 'The Small Passion' Woodcut Engraving, a later edition after the artist's death, the addition of the initial on the lower left.
Edition: circa 16th to early 17th c.
Medium: woodcut
The original edition from 1511 had text on the reverse in latin and then another edition has text in Italian. This one has no text on reverse but still a 16th-17th c. edition, indicated by laid paper.
The piece has conservation but very early and the Conservitor initialed their repair, a very uncommon practice and indicates prestige of the owner and conservator.
The bottom edge has repair with in painting of the bottom edge. The reverse has initials "W B S" please see images of this part.

Size: 5 x 3.7/8in.
Condition: fine with sigs of very light trimming on the right side. The left side is hinged mounted and the bottom left corner has a small tear. Light wave to the paper and as indicated, the bottom edge has old conservation with initials of conservator on back. Please see the images for more details.
If you have any questions or if you need more images please feel free to contact me.
NOTE:
The price listed is for US. If you are an overseas buyer please email me your shipping address before purchase to get a shipping quote.
Detail photos Click to enlarge