⬅ Return to collection
Daguerreotype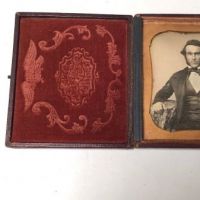 Circa 1851 Daguerrotype of Man By Baltimore Photographer John Jones 159 Balto. Street Combined Sky & Side Light Civil War Photographer
Circa 1851 Daguerrotype of Man By Baltimore Photographer John Jones 159 Balto. Street Combined Sky & Side Light
A Case signed Daguerrotype by the Civil War Photographer John Jones at his 159 Balto. Street address of a older stern man.

One online directory states "Listed as a daguerreian in Baltimore, Md., 1848-1851. In 1848 he advertised he could produce an imperishable daguerreotype that could be wiped with a cloth. In 1849-1850 he was listed with a daguerreian gallery at 159 Friendship Court (Baltimore Street) near North Edenin Street. In 1851 he was listed over 159 Baltimore Street, and lived on North Eden near Fayette Street. This is probably the same John Jones listed as a philosophical instrument maker and optical instrument maker at 18 South Street in 1853-1854 and subsequent directories."
Listed on other sites with additional information "Jones' Daguerrian Gallery, 159 Baltimore (1848-1851). TS, CD. Labels: Embossed miniature case pad "JONES/ COMBINED SKY & SIDE LIGHT/ 159 BALTO. ST."
Later on towards the Civil War, Jones would play a prominent role in photographing many prominent men and women pertaining to the Civil War.
The sitter is not identified but his rugged attire stature would indicated the sitter had respect and was looked at as a leader in some way.
Size: Sixth Plate - 2.75 x 3.25 inches
Condition: The is very well detailed and sharp daguerrotype is hand tinted on his shirt. The image plate is in very good condition, I have not taken the image out of the case and most likely the seals are intact and tight. The mat has slight and small marks. The caseload detached but otherwise in very fine condition. The Red Felt has the photographer name and address, slightly soiled but not damaged. Please see the images for details.
If you have any questions or need more images, please feel free to email me.
NOTE:
The price listed is for US. If you are an overseas buyer please email me your shipping address before purchase to get a shipping quote.
Detail photos Click to enlarge