⬅ Return to collection
Folk Art & Outsider Art : Historical Memorabilia : 1800s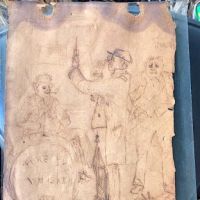 Circa 1870s Original Hand Drawn Satire of Let No Guilty Man Escape for The Whiskey Ring Conspiracy Maryland Whiskey President Grant
One of the many things Maryland is know for is it's production of Rye Whiskey, obviously not now but in the late 18th and early 19th century to early 20th century, Maryland and Penn. was a major production of the famous brand of Whiskey. The regions "softer" water and the mash, a mix of corn and rye, made the whiskey a slightly sweeter and "little bit rounder" taste. This drew a lot of people to what they called Maryland Rye.

This amazing 1870's drawing refers to just what is happening. The drawing comes from a large estate in northern Maryland who were farmers and merchants from the 1700's-1900's. The Artist is not know, obviously the connection to the scandal lead them to make this statement of quick and earnest drawing.
A pencil and ink drawing on paper, this document and window to America's past, is an intimate statement of current events in America.

After the Civil War, the taxing of liquors and other items was imposed to help recoup the money spent on the war, and one such tax was Liquor. A scandal during the Grant administration, the "gauger" would falsify the readings, …."the government gauger would measure the amount of whiskey in the barrel and figure the tax on the whiskey before that barrel could be sold. In 1872, The Whiskey Ring began after President Grant was elected for a second term."
"The Whiskey Ring was a conspiracy between government gaugers, distributors and distillers. The distillery would make their whiskey and place it in the bonded warehouse, but the gauger would only report half of the amount as being made for tax purposes. After the year had passed, the distiller would sell the whiskey, including the untaxed whiskey at the market price, but the profit from the untaxed whiskey would be split between the distiller, the distributor and the gauger."
"Let No Guilty Man Escape"
The tag line, "let no guilty man escape" refers to Ulysses S. Grant. He said, "Let no guilty man escape, if it can be avoided. No personal considerations should stand in the way of performing a public duty." — Ulysses S. Grant Endorsement of a letter relating to the Whiskey Ring (29 July 1875). 1870s"
A very good article about The Whiskey Ring: https://bourbonveach.com/2020/03/09/the-whiskey-ring/
Size: 5 3/4 x 6 3/4 inches
Condition: water damage at the bottom and chipping to the right edge. Obvious aging to the paper. Please see the images for more details.
If you have any questions or if you need additional images, please feel free to contact me.

Note:
Over seas buyers please contact me before purchase with postal code to get a shipping quote. Shipping cost posted is for Domestic shipping only.
Detail photos Click to enlarge