⬅ Return to collection
Cabinet Cards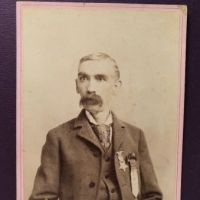 Circa 1890 Cabinet Card Civil War Veteran with Medals Baltimore Photographer Julius Hebbel Union Soldier
Circa 1890 Cabinet Card Portrait of a Civil War Veteran with Medals
The photographer is a Baltimore photographer, Hebbel who was located on 409 N. Gay Street. By the location and dress, the image appears to be circa 1890. His metals, which I cant make out but appears to be Union. Baltimore was unique in the Civil War, it was a Southern sympathizer state but since it was so close to DC and north of DC it was under marshall law and declared a Union State. The man appears to be about 40+ years of age making him a very young man when he was in the war.
The photographer is Julius Hebbel who took other photos of veterans in Baltimore. The sitter is not known and there is no history or any other identifying marks on the cabinet card.

Size: 4 1/4 x 6 1/2 inches
Condition: the image has very light soiling from storage but the image is very clean in very good condition. The back has light marks from storage. Please see the images for more details.
If you have any questions or need more images, please feel free to email me.
NOTE:
The price listed is for US. If you are an overseas buyer please email me your shipping address before purchase to get a shipping quote.
Detail photos Click to enlarge