⬅ Return to collection
Rugs : 1800s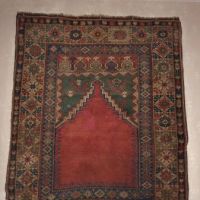 Circa 1900 Antique Mudjur Prayer Rug Turkish 5 Feet x 4 Feet
Circa later 1800's to early 1900 Turkish Mudjur Prayer Rug
Mudjur Prayer rugs, were made in and around central Turkey and are typified by the prayer niche the center. The niche is the stepped arched design with the crown at the top. The prayer rug was used as the name implies, prayer. The arched stepped niche would be laid down and point towards the direction of Mecca.
These rugs share some similarities to medieval church windows and many conclusions can be drawn why, one being the churches eyes on the holy city of Jerusalem. The first crusade was 1000 ad and the sacking of the city to reclaim the artifacts and holy city to the Christians. So the integration of the Muslim design and the early Christian crusades would be incorporated into early to later medieval designs of the Catholic Church. Many early churches and castles of the Western world would have Middle Eastern Rugs.
This central Turkey rug, known as Mudjur are beautiful rugs, the wide central field, the geometric boarders and the striking prayer niche have made these rugs very popular for over 100 years, making them hard to find and especially hard to find early rugs like this one.
Size: 5'5" x 4'4"
Condition: very fine, the rug has been hanging for many years away from the sun. Some old repairs can be seen. Typical of the era, the repairs are filled in blocks of fabric. Many are close in color but not an exact fit, how could you? The boarder is very fine fringe intact. Some light staining on the center field but nothing that is taking away from the beauty of this rug. Please see the images below, of the repairs, with a flash the repairs are a pink, approx. 7 repairs.
Please see the images for more details.
If you have any questions or if you need additional images, please feel free to email me.

Note:
shipping cost is for US only, if you are an over seas buyers please email me your shipping address to get a shipping quote.
Detail photos Click to enlarge