⬅ Return to collection
Cabinet Cards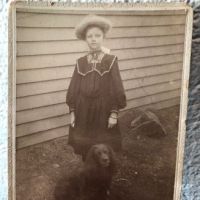 Circa 1900 Cabinet Card of Young Girl with Her Dog Red Field Spaniel Photograph by Madsen 16 W. 14th Street New York
Madsen New York Photographer Young Girl with Her Dog Red Field Spaniel Breed Cabinet Card
The Young woman is dressed so well and poses with her dog, which looks like a Red Field Spaniel but it sits and poses with the young girl.
The cabinet card has printed margin with the photographer's name, Madsen 16 W. 14th Street New York.
Year: Circa 1900
Medium: cabinet card
Brief History and explanation of Cabinet Card Process:
"Cabinet photos were made very similarly to the carte-de-visite. They too, were a wet plate process. A layer of albumen (egg white) followed by a layer of collodion was painted on the plate before being dipped in a nitrate bath for photo sensitizing. Th exposures were made while the plate was still wet and afterward, immediately put into the development solution. The plate of the negative began to be varnished to help deter any scratches from damaging the images. The negatives were then printed on the pre sized stock papers (which were also dipped in albumen and sensitizing solution). Sometimes the prints were toned using a solution of gold chloride which gave them that brown/sepia look before the image was "fixed" or stabilized in hypo."
Size: 4 1/4 x 6 1/2 inches
Condition: fine with slightly bumped edges from storage. The image is fine with only light and small storage mark. Please see the images provided for more details
If you have any questions or need more images, please feel free to email me.
NOTE:
The price listed is for US. If you are an overseas buyer please email me your shipping address before purchase to get a shipping quote.
Detail photos Click to enlarge