⬅ Return to collection
Snapshots
This item has been sold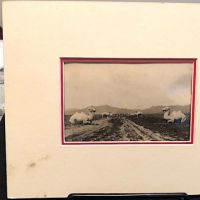 Circa 1900 Photo of Road Of Camels Worlds Fair Expo Egyptian Pavilion Original Snapshot
Circa 1900 Photo of Road Of Camels Snapshot
Circa 1900 Photo of Road Of Camels Worlds Fair Expo Egyptian Pavilion Original Snapshot
Year: circa 1900
medium: snapshot
Appears to be a early snapshot of the building of Egyptian Pavilion and or another exhibit showing off the wonders of Egypt.
The Camels lining a road, being prepared for the an exhibit.
A Wonderful snapshot.
Size: 6 1/2 x 4 1/2 inches
Condition: Fine with small wrinkle/ bubble on the right side. Please see the images provided for a visual description.
If you have any questions or need additional information, please feel free to contact me.
Note:
Over seas buyers please email me for shipping quote, please provide me with a shipping address and postal code.
Detail photos Click to enlarge