⬅ Return to collection
1900-1940s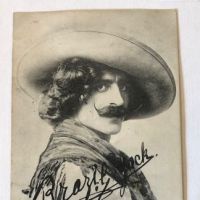 Circa 1910 mage of Brazil Jack Swedish Circus Performer with Signature on Brefkort Postcard
A Rare Image of Brazil Jack Swedish Circus Performer with Signature on Brefkort Postcard Circa 1910
A Rare Image of Brazil Jack Swedish Circus Performer with Signature on Brefkort Postcard Circa 1910
Brazil Jack (Carl Rhodin) was a Swedish Circus Performer. He started is circus in circa 1899 and dressed and modeled his circus after Buffalo Bill's Wild West Show.
Born in 1871 and died in 1952 Sweden.
He came from a long line of performers and artistic family. His father was an illusionist
"In the spring of 1899, he had a 26-meter tent sewn at Albrechtsson's sailing factory in Gothenburg. Then he also took the artist name that he would bear for the rest of his days, Brazil Jack. Inspired by the success of Buffalo Bill on his European tours in 1887-1892, he wanted to focus on the western theme. The name is a construction based on the same principle as the more internationally known predecessor, combined with the fact that his mother the sand painter claimed to have been born in Brazil. After the first year calling its new company circus Brazil Jack, it was renamed Circus London. The circus grew rapidly in size and importance. He engaged artists such as Alfred Schneider with twenty-five lions and a whole troupe of Indians from the Saint Lawrence River Canada. He bought a set of horses with which he played great wild western dramas in his manege. Native American assaults, stagecoach hunts and women's robberies were things that interested the audience of that time and the director himself was always the hero of the drama. During these years his wife quickly gave birth to seven more children: Happy Celestino Anselmo (b. 1900) and then the two daughters Molly Josephina (b. 1903) and Barnum Margareta "Baby" (b. 1904). Carl Max Alexander (b. 1905), Frantz Xavier (b. 1908), Leonard Haakon Jarl (b. 1909) and finally Jean Eugene Osborne (b. 1911). The circus had toured in Sweden as well as in Norway and the family….."
To find a postcard, signed by Brazil Jack in America is very rare, my client could not remember why or where he got the card.
The postcard has a signature in black ink. There is a small smudge on the top of the letter "C" in Jack. With magnification that signature seems a little light. The image is a machinical lithograph by the company Brekfkort. The image has an abrasion on the left side that removed additional information. The Card is not stamped or dated and was not used, but glued into a scrap book. There are black marks where it was glued. Please see the images.
Size: 3 1/2 x 5 1/2 inches
Condition: Some minor soiling to the front, bottom right there is light rubbing and the lower right corner is bent. The Signature is very crips and in fine condition. Please see the images for more details
If you have any questions or if you need more images please feel free to contact me.
NOTE:
The price listed is for US. If you are an overseas buyer please email me your shipping address before purchase to get a shipping quote.
Detail photos Click to enlarge