⬅ Return to collection
Antique Accessories : Folk Art & Outsider Art : 1900-1940s
This item has been sold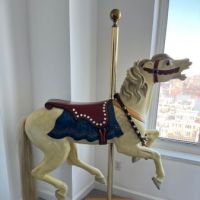 Circa 1915 Herschell Spillman Carousel Horse Jumper Professionally Restored
Circa 1915 Herschell Spillman Carousel Horse Restored Jumper
"Herschell, with James Armitage, created the Armitage Herschell Company in 1873. Armitage Herschell remained in operation until the early 1900s. The company carved many portable carousels, made simple in style. Surviving steam riding galleries are located in Mississippi and Maine. In 1901, Herschell left the company due to financial complications, thus allowing de Kliest to buy the pair out, and seek new investment from his association with Rudolph Wurlitzer." By the early 1900's Herchell created his own company which competed with his own company.."Spillman Engineering Company, in 1915. Herschell specialized in horses with rigid poses and portable machines, which enabled them to be packed and shipped easily between towns. Herschell produced over 3,000 carved wooden carousels, which were shipped all over the United States and Canada, as well Mexico, South Africa, and India."
The amazing wood carved and painted carousel horse is typical of his carved horses, included in the photos is a photo from a book showing his workshop and the master at work. In the pictures you can see almost the same jumper for sale her as in the photos.


The carousel horse has been restored and professionally painted and restored. You can see in the photos the detailed paint, taking you back for those who remember the wooden carousel rides. There are a few old carousel rides in the US, so if you have never been on one, they are beautiful and opulent!
The stand and pole are not original to the horse.
Now you can have one in your house and as you can see they are a statement and just are a beautiful addition to any collection!
Size: the horse is 50" long x 48" tall x 12" wide
Condition: Restored with new paint. At the pole hole, you can see very light chipping of the wood and the paint. Some very light paint cracking can be seen at the seams of the wood body. Very minor and the nature of wood when it expands and contracts. Please see the images for more details and if you have any questions, please feel free to email me.
Note:
Shipping will require transport or pick up in 21211 area. Delivery will be blanket wrapped and transported. Please email me your address to get you a detailed delivery quote. Pick up is available and free. Please email me if you have any questions.
Detail photos Click to enlarge