⬅ Return to collection
Jewelry : 1900-1940s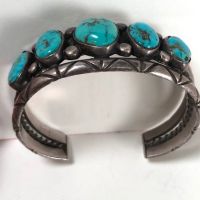 Circa 1920's Antique Pawn Navajo Silver Cuff with Turquoise and Silver Rope Motif Unsigned Melted Coin Silver
Circa 1900's Antique Pawn Navajo Silver Cuff with Turquoise
The Navajo Jewelry has for years been collectible and sought after and almost every generations picks back up the collecting of these amazing pieces.
My family had a family member how bought 100s of pounds of Pawn Jewelry in the 1920's. So much was bought a family member opened a Native American Jewelry store in the 1970's.
This piece is an early 20th c. and unsigned cuff. A Navajo cuff with beautiful turquoise stones and a single silver rope at the center. The metal is silver and typical of the early pieces, they did not sign them. The signing of the pieces came later, making this one early 1900's. Another sign of early making is the use of the coin silver. The color is typical of the pure silver used from melted coins. Once the Native American's were forced to locate to reservations, access to silver came from coins they melted.
The turquoise appears to be from the Bisbee Mine Turquoise, the veining and the matrix is typical of the that mines style and mineral make up.
Hand designed with simple geometric style on the edge of the cuff and the roping in the center of the sides is a great touch. 5 mounted turquoise stones are set securly in the their mounts.
Size: Aprox 3 1/2 wide
Condition: Very Good with no breaks in the welds, the settings of the turquoise are strong and the shape is even. This piece has been well taken care of. Please see the images provided for more details
If you have any questions or if you need additional images, please feel free to contact me.

Note:
Over seas buyers please contact me before purchase with postal code to get a shipping quote. Shipping cost posted is for Domestic shipping only.
Detail photos Click to enlarge