⬅ Return to collection
Medical & Oddities : 1900-1940s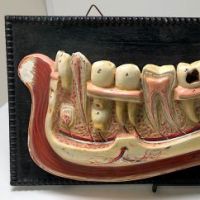 Circa 1920's Plaster and Wood Anatomical of Low Jaw Made in Germany Sold by New York Biological Supply Company
Lower Jaw Anatomical Model German Made Wood and Plaster on Wood Boards New York Biological Supply Co. Metal Tag. Circa 1920's
The German Anatomical Displays go back well into the 1700's with their wax anatomical displays, full body and parts, that were used for display in teaching and doctor Office's.
The craftsmanship of these models have made most of their displays very collectable.
This one is a display of a lower jaw with cut away of the nerves and teeth, showing how the roots grow and how infected teeth invade the surrounding bone. Each part of the model is labeled with a letter, used to identify the various parts.
Marked on the side, Germany
On the lower right is the Supply company that imported and sold these items, New York Biological Supply Company. The decorative metal tag is appleid with small brass nails.
Size: 9 x 19 1/4 inches
Condition: The board is original and the finish is fine. The Paster model is in good condition but does have paint loss and some plaster chipping in small areas due to age. Please see the images for details of the damage areas.
If you have any questions or if you need additional images, please feel free to contact me.
NOTE:
The price quoted is for US buyers only. If you are an overseas buyer, please email me before purchase to get a shipping quote. Please email me your mailing address to get a shipping quote.
Detail photos Click to enlarge