⬅ Return to collection
Lighting : Mid Century Design : Mid-century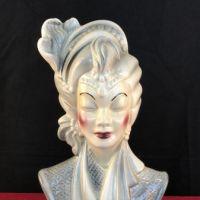 Circa 1950's Navis and Smith TV Lamp of Asian Woman Exotica 
Circa 1950's Navis and Smith TV Lamp of Asian Woman Exotica
Navis and Smith, the company started in 1946, both Navis and Smith were lamp designers and manufacturers since the 1920's. Joining forces in the 40's they produced pieces synonymous with the exotica and pop culture of the time. They produced Asian figures to animals but this piece is one of the coolest in their productions.
The woman has a large headdress with airbrushed colors highlighting the lamp.
The tag is no longer visible, you can see where the paper label has been worn off.
The plug is the original plug but I will not test old electrical, I suggest having a person test or replace the cord for safety issues.
**due to potential hazard with electricity, I suggest replacing electrical plugs**
The light switch does turn and feels like it is working properly.
Size: 12 3/4" tall
Condition: Very fine with no visible breaks or chips. The plug and cord are in visual good condition but I have not tested the electrical. Please see the images provided for more details.
If you have any questions or if you need more images please feel free to contact me.
NOTE:
The price listed is for US. If you are an overseas buyer please email me your shipping address before purchase to get a shipping quote.
Detail photos Click to enlarge