⬅ Return to collection
Press Photography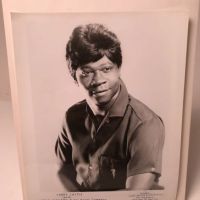 Circa 1965 Press Photo Larry Laster Little Richard and his Royal Company Near Perfect Condition
A very Early Press Photo, circa 1964 of Larry Laster. This early image is when he was with the unstoppable Little Richard. Billed on the bottom of the press photo, Larry Laster with Little Richard & His Royal Company.
Another amazing piece of music history and for me Little Richard was at the top list of great music and music performer. Not only was his writing, stomping rhythm and blues but his person life is amazing and filled with adversity that he and he alone made it though. Enough of his person, his music, his music is summed up in todays words as the father of rock and roll, not Elvis but Little Richard. He was not safe music like Elvis Presley, Little Richard's music was loud, fast and over the top music to make you move and to feel alive.
This takes me to Larry Laster, Little Richard wrote amazing songs and was a top performer but his band! His band made those songs sound like they do and it was partially due to Larry Laster and of course the guitarist Jimi Hendrix, who would join for a short time in 1965-66. Larry Laster was a performer and his own singles, his voice rips off the vinyl.
Size: 8 x 10
Condition: Near perfect, with only slight bumps to the corners. Back has pen on the back of the photo. Please see the images provided for more details.
If you have any question or if you need additional images, please feel free to email me.
NOTE:
The shipping price is for US buyers only. If you are an overseas buyer, please contact me before purchase with your shipping address to get a quote.
Detail photos Click to enlarge